Happy Release Day to Samantha Towle and her new book WHEN I WAS YOURS!
♥ BUY THE BOOK ♥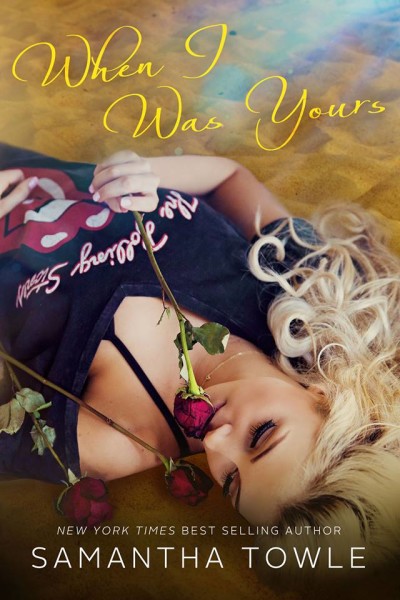 "What?" I stared back at him, unblinking.
He moved closer, taking my face in his hands. "I love you, Evie. I look into the future, and the only thing I see clearly is you. Marry me."
What's an eighteen-year-old girl who was madly in love with her nineteen-year-old boyfriend say?
Of course, I said yes.
Twenty-four hours later, I married Adam Gunner at a Vegas chapel to the sounds of "Livin' on a Prayer" by Bon Jovi. Not the best omen. I get that now.
Then, exactly one week later, I left him. I walked out, leaving behind my wedding ring, annulment papers, and my heart, and he never knew why.
I haven't seen him since. Not in ten long years.
Now, he's here, standing before me. Looking at me with nothing but hurt and hatred in his eyes, he wants answers.
Answers I can't give.
Release Date: November 10, 2015



Adam POV
Making my way through the hotel, I exchange pleasantries with the staff on duty. When I reach the coffee shop, I push open the door and step straight into the past.
Evie
. She's standing behind the counter. Her face is turned slightly to the right, her attention on the TV mounted on the wall, and her hair is pulled back into a ponytail. But it's her. I feel like a speeding train has hit me, and I'm pretty sure my heart has stopped beating. It's really her.
She's here.
"Evie?" I breathe out her name, like I'm taking my first real breath in a very long time. Her body stiffens at the sound of my voice. And I watch as her face turns my way. Those big whiskey-colored eyes that I fell in love with all those years ago meet mine, and my world stands still.
Evie POV
My eyes rake over him as I remember the Adam I knew ten years ago and compare him to the Adam I see before me. The long hair is gone, replaced with cropped locks. The unshaven scruff on his face is still very much there though. At least some things haven't changed. "You cut your hair." "It has been ten years." "I know. I just...I remember a time when you said you'd never cut your hair." A small smile touches my lips at the memory. "Yeah, and I remember when you promised to love me till death do us part. Shit changes." My smile drops from my face. My cheeks sting like he's just slapped me. I deserved that. Doesn't stop it from hurting like a bitch though.
In this second chance romance, we have get past and present dual POV's from the characters Adam and Evie. Their relationship starts at the age of seventeen(Evie) and nineteen(Adam) when they meet on the beach of Malibu. Adam comes from Hollywood blood while Evie is just your average girl. The attraction is there not by only how they look but how they get each other. Adam comes from a loveless broken home while Evie comes from a home full of love though it's been broken by a tragedy. As their relationship blossoms, they know that they're it for each other. After an impromptu engagement and marriage, you would think that everything would go their way and live happily ever after but no. A person comes into play when another unfortunate occurrence happens and Evie takes the bait.
So this is where the past and future come into play. We see how things lead up and unfortunately dissolve. Adam never got over his first love. Commence his manwhoring ways to forget but he couldn't move on. Seeing Evie for the first time in ten years, Adam is wanting answers that Evie will not give until the fight leaves her and the secret comes out. Evie never got over Adam. She did what she thought was right. Through all this they rekindle their love or shall I say their sex. There's angry and sweet sex. It's emotional and intense. You root for them to open up so they can be where they were always meant to be, together. It's an adorable and emotional on first love and how it never goes away.

New York Times, USA Today, Wall Street Journal and international bestselling author Samantha Towle began her first novel in 2008 while on maternity leave. She completed the manuscript five months later and hasn't stopped writing since.
She has written contemporary romances, THE MIGHTY STORM, WETHERING THE STORM, TAMING THE STORM, TROUBLE, REVVED and REVIVED.
She has also written paranormal romances, THE BRINGER and the ALEXANDRA JONES SERIES, all penned to tunes of The Killers, Kings of Leon, Adele, The Doors, Oasis, Fleetwood Mac, and more of her favourite musicians.
A native of Hull and a graduate of Salford University, she lives with her husband, Craig, in East Yorkshire with their son and daughter.